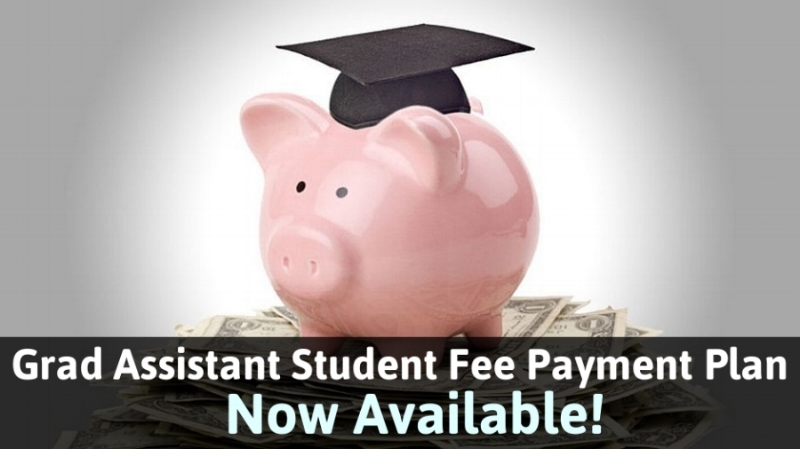 Paying your Student Fees as a Grad Assistant
From URI Enrollment Services' website:
If you are a Graduate Teaching, Administrative or Research Assistant, you now have the option to pay your 2019-20 graduate student fees in installments through Enrollment Services. There is no enrollment charge in order to sign up for this installment payment plan.
How to Enroll
If you are a current Graduate Assistant and wish to enroll in the student fee deferment plan to pay your student fees, please download and complete the Graduate Assistant Fee Deferment Request Form, then send an email to esmail@etal.uri.edu with the completed form attached.
Enrollment Deadlines
Please return completed forms to Enrollment Services. Forms must be received by October 23, 2019 for spring term requests. Please note that your assistantship award must be visible on your e-Campus Account Summary before deferment requests can be processed.
Payment Schedule
You should refer to your e-Campus Account Summary to determine the actual amount due in fees for each semester. You may divide the total fee amount into thirds and remit payment according to the following schedule. Please note that your Fall semester fee balance must be fully paid by December 31, 2019, and your Spring semester fee balance must be fully paid by May 1, 2020, to avoid monthly late payment fees and registration holds.
PAYMENT DUE DATES- FALL SEMESTER FEES
November 1, 2019
December 1, 2019
December 31, 2019**

PAYMENT DUE DATES- SPRING SEMESTER FEES
March 1, 2020
April 1, 2020
May 1, 2020
**If you are eligible to claim an education tax credit on your 2019 Federal Income Tax Return, it is important that your final fall payment be received by December 31, 2019.
Payment Methods
Online payments are encouraged and can be made through e-Campus. Electronic payment from a bank account is free, however, a service charge of 2.75% will apply if paying by credit card. (The service charge is 4.25% for international credit cards). Payment can also be made in person by cash or check at Enrollment Services (Green Hall, 2nd floor). If paying by check, please include your student ID number on the memo line.
Late Payments
Please note that a late payment fee will be assessed if payments are not made on time.
GRADUATE STUDENT FEE LATE PAYMENT CHARGE
(ASSESSED THE 15TH OF THE MONTH)
>$1,000 --- $25
$400 - $999 --- $15
Less than $400 --- $10
Questions?
If you have any questions or concerns regarding this payment plan, please do not hesitate to call URI Enrollment Services at (401) 874-9500 or via email at esmail@etal.uri.edu.
You can find the most up to date information about this program via Enrollment Services here: http://web.uri.edu/enrollment/graduate-fee-deferment-plan/.